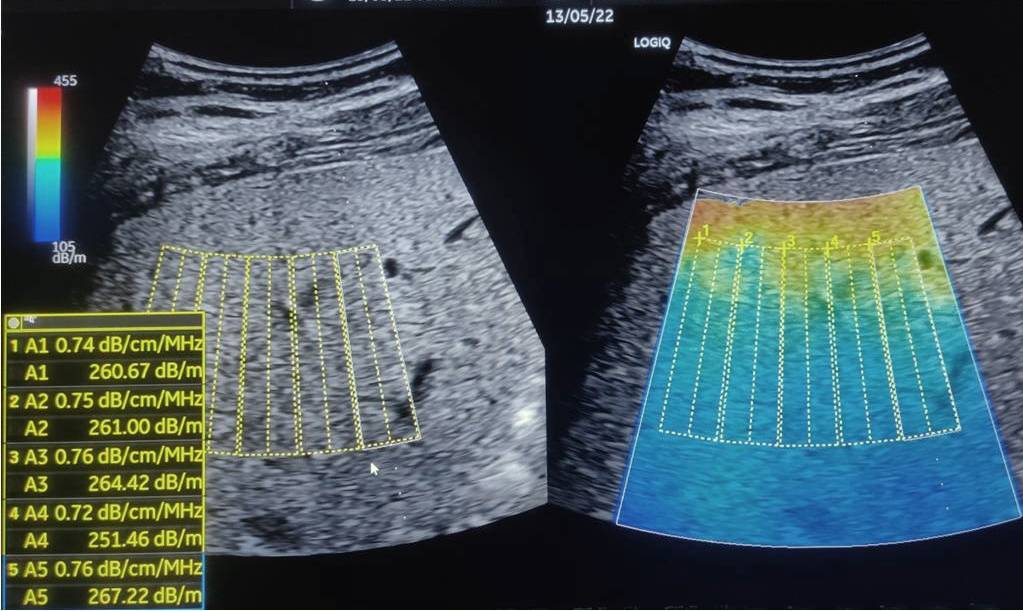 KATARIA HEALTHCARE is proud to have GE P10 XD Clear ultrasound – THE 1st ultrasound system in Delhi NCR to have UGAP technology (UGAP on Ultrasound has higher accuracy than CAP Score of traditional Fibroscan according to new research).
UGAP(Ultrasound guided attenuation parameter) is a non-invasive tool to assess the amount of fat in liver cells with great accuracy and along with Ultrasound based Liver Elastography can tell us the presence or absence of liver fibrosis.
Who should get it done?
Patients with-:
Fatty liver disease
Alcoholic liver disease
Non alcoholic fatty liver disease
Chronic liver disease
Cirrhosis
Obesity
Diabetes
Chronic hepatitis B & C
Why you should get it done?
It gives us an accurate estimation of liver fat unlike normal ultrasound where you get to know only a Grade. You will get to know the exact value of fat in your liver cells.
Along with liver fat you will also get to know whether your liver cells have suffered any damage in terms of liver fibrosis. Liver fibrosis sets in when liver cells shrink and stop functioning normally.
An accurate and exact measurement of liver fat and fibrosis will help your doctor in deciding your treatment.
How it is done?
It is done in the same way as an Ultrasound but on a high end system equipped with Shear wave Elastography and UGAP software technology.
This test may take up to 15-20 minutes to perform. You will not have any pain or discomfort during the test.
Patient Preparation
Patient should come with overnight fasting(10-12 hours). No other special preparation is required.